---
Extracting Texts - extract.py
The extract.py program takes a layout pattern file generated by analyze.py and extract the main text and its title from HTML pages. First it decomposes each HTML page into layout blocks in the same way as the analyzer. Then it tries to find the most similar sequence of layout blocks from the pattern file (Fig. 6). If the similarity exceeds a certain threshold (given by '-t' option), it is considered that the page has the same layout pattern as the one in the pattern file.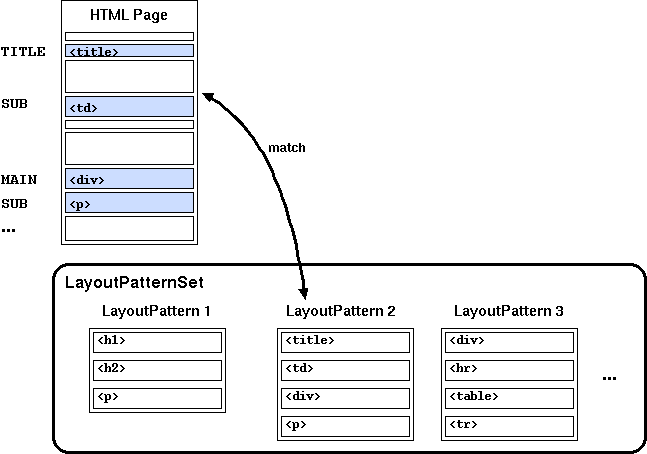 Fig 6. Searching a layout pattern which matches the given page.
You can add an extra restriction by using "strict mode" (-S option) which prevents incomplete matching. In the strict mode, the program rejects a layout pattern if any of its layout block is missing in the page, no matter how many layout blocks are overlapping. This allows you to identify page layout improved accuracy. However, in some newspapers (such as several U.S. newspapers, which use slightly different layouts on each day,) you might get lower recall, which means the number of matching pages might be decreased.
After determining the page layout pattern, the program extracts texts from the layout blocks selected by the user-specified thresholds, and output them as either TITLE:, MAIN: or SUB: according to its DiffScore and MainScore value.
---
Anatomy of Pattern Files
analyze.py outputs patterns as a text file. It has one layout pattern per line. Each pattern contains several values formatted by Python's repr() function. An empty line and a line which begins with a '#' is regarded as a comment. Each pattern follows a couple of comment lines which shows the score of the pattern (indicating how likely the page is an article) and original page IDs that belong to that pattern when learning.
The following sample pattern was obtained from cnn.com. (For reader's convenience, a pattern is split into multiple lines, which is not allowed in an actual pattern file.)

### version=0.6.0                (Webstemmer Version)
### fname='cnn.200511210103.zip' (Source file used for learning)
### cluster_threshold=0.970000   (Clustering threshold of page similarity)
### title_threshold=0.600000     (Threshold for detecting a title)
### pages=74                     (Total number of pages used for learning)

# 3759.96885103 <200511210103/www.cnn.com/2005/EDUCATION/11/18/principal.shaming.ap/index.html> (pattern 1)
#       (Pages which belong to this cluster)
#       200511210103/www.cnn.com/2005/EDUCATION/11/18/principal.shaming.ap/index.html
#       200511210103/www.cnn.com/2005/WORLD/meast/11/20/iran.nuclear.ap/index.html
#       200511210103/www.cnn.com/2005/EDUCATION/11/18/student.progress.ap/index.html
#       200511210103/www.cnn.com/2005/TRAVEL/DESTINATIONS/11/18/homer.exhibit.ap/index.html
#       200511210103/www.cnn.com/2005/US/11/20/lost.in.morgue.ap/index.html
(3759.9688510285455,                                            (Overall score of the cluster)
 '200511210103/www.cnn.com/2005/EDUCATION/11/18/principal.shaming.ap/index.html', (Cluster ID)
 9,                                                             (Index of the title layout block in the sequence)
 [                                                              (List of layout blocks)
  # (diffscore, mainscore, block feature)
  (0.54130434782608694, 24.899999999999999, 'title'), 
  (0.0, 0.0, 'table:align=right/tr:valign=middle/td:class=cnnceilb'),
  (0.0, 0.0, 'table:id=cnnceil/tr/td:class=cnnceilw'),
  (0.052631578947368418, 0.0, 'ul:id=nav/li/div'),
  (0.0, 0.0, 'ul:id=nav/li:class=money/div'),
  (0.0,0.0, 'ul:id=nav/li:class=sports/div'),
  (0.047314578005115092, 0.0, 'ul:id=nav/li/div'),
  (0.0, 0.0, 'ul:id=nav/li:class=autos/div'),
  (0.0, 0.0, 'td:id=cnnnavbar:rowspan=2/div:class=cnnnavbot/div'),
  (0.76451612903225807, 23.699999999999999, 'tr:valign=top/td:id=cnnarticlecontent/h1'),
  (0.085365853658536592, 1.3999999999999999, 'div:class=cnninteractiveelementscontainer/div:class=cnnieheader/h3'),
  (0.73124999999999996, 23.399999999999999, 'div:class=cnniebox/div:class=cnnieboxcontent/div:class=cnnemailalertoptionrow'),
  (0.0, 0.0, 'div:class=cnniebox/div:class=cnnieboxcontent/div:class=cnnalertsbuttonrow'),
  (0.0, 0.0, 'div:class=cnninteractiveelementscontainer/div:class=cnniebox/div:class=cnnieboxcontent cnnalertsfooterrow'),
  (0.99176016830294533, 2262.8000000000002, 'tr:valign=top/td:id=cnnarticlecontent/p'),
  (0.0, 0.0, 'td:id=cnnarticlecontent/div:class=cnnstorycontrib/p'),
  (0.0, 0.0, 'tr:valign=top/td/div:class=cnnstorytools'),
  (0.0, 0.0, 'table:id=cnnstorytoolstimebox/tr/td'),
  (0.37226277372262773, 0.0, 'tr:valign=top/td/div:class=cnnbinnav'),
  (0.7265625, 0.0, 'table:class=cnnstoryrelatedstopstory/tr/td'),
  (0.66804979253112029, 0.0, 'td/div:class=cnnstorybinsublk/div'),
  (0.0, 0.0, 'tr:valign=top/td/div:class=cnnbinnav'),
  (0.0, 0.0, 'table:class=cnnstoryrelatedstopstory/tr/td'),
  (0.0, 0.0, 'td/div:class=cnnstorybinsublk/div'),
  (0.0, 0.0, 'tr/td/div:class=cnn4pxlpad'),
  (0.0, 0.0, 'table/tr/td'),
  (0.0, 0.0, 'table/tr/td:align=right:class=cnn7pxrpad'),
  (0.0, 0.0, 'table:id=cnnfoot/tr:valign=top/td'),
  (0.0, 0.0, 'table/tr/td:valign=top'),
  (0.0, 0.0, 'table/tr:class=cnnnopad/td')
  ]
)

---